---
FAQ: My dog eats his own poo…yuck! Can you help?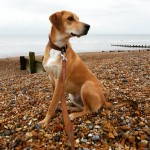 Poo eating, more formally known as Coprophagia, can develop over a period of time with an older dog or you might have a puppy that has started this behaviour recently. A dog might be behaving like this for many reasons; because it holds some appeal in terms of taste (!?) or psychological fulfillment or it could be that he is trying to hide the fact that he has soiled a particular area, if he was scolded previously for example.
Obviously, you must use COMMON SENSE here, so recognise that your dog may be lacking in nutrients too and take a close look at how, what and how much you're feeding your dog, consult manufacturer's feeding guidelines and ask your Vet for advice if you are unsure or have any concerns about your dog's well-being.
One strategy to counter the poo-eating behaviour (if he' s intent on eating his own) is to mix some finely diced pineapple (courgettes can work too!) into your dog's normal food. On digestion, the resultant waste is often much less appealing after all! Practicing the 'Leave' command is also really important here. Begin by training and motivating your dog to 'Leave' an article/toy or food at home or in a park and, once you're confident that your dog is responding well, start applying the same 'Leave' message to anything else (like poo) that might be lurking on the ground! This, of course, means you will need to supervise your dog as much as possible in the early stages so you are present to offer guidance whenever he's contemplating eating any poo. Being consistent is key.